Scoliosis Treatment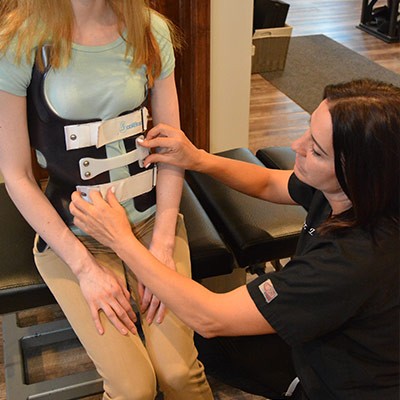 In the realm of non-invasive treatments for correcting and managing scoliosis, bracing is a proven, effective option.
At the Scoliosis Center of Utah, we stand behind the ScoliBrace®, a revolutionary approach to bracing with an exceptional body of results.
Scoliosis is a three-dimensional disorder and requires a three-dimensional solution.
Bracing satisfies this demand by providing comprehensive support and corrective guidance to misaligned spinal curvature.
Best of all, the ScoliBrace® can be specifically tailored to the individual case for optimal results.
Our Approach
The Scoliosis Center of Utah uses fully-customized spinal braces to treat scoliosis and kyphosis as part of our unique approach to delivering care. Here's how the process works:
For qualifying patients, a custom 3D brace will be designed. This process starts by scanning the patient using a three-dimensional software program and digital x-rays for precise curve measurements needed for their spinal correction.
The final brace is then created by a dedicated team of designers.
Trained physicians will fit the patient in their brace and make any final adjustments needed.
We're dedicated to delivering the best scoliosis treatment options for children and adults through a commitment to patient-focused care.
In addition to customized bracing, we follow the most current evidence-based guidelines for Mirror Image specific exercise, strengthening the spine in a way that's compatible with the ScoliBrace® program.
Bracing for Children with Scoliosis
Custom scoliosis bracing can be beneficial in the treatment of scoliosis for both infantile and juvenile cases.
It may reduce curves while improving appearance and self-esteem.
Bracing for Adolescents with Scoliosis
ScoliBrace® is used to treat adolescent idiopathic scoliosis and may reduce curves, rib humping, and shoulder and waist imbalance, all while encouraging symmetrical posture.
Bracing for Adults with Scoliosis
ScoliBrace® may slow or stop worsening of scoliotic curves, reduce pain, and improve body symmetry.
Promoting better spine balance may also help with fall prevention in seniors.
ScoliNight
ScoliNight is most effectively used in the early intervention of smaller curves for younger patients.
The goal is to stop rapid curvature growth early, rather than rely on full-time bracing or potential surgery.
Nighttime-only bracing can increase results in younger children.